If you have tried several weight loss techniques and failed them, then you are not alone here. Nor should this reason make you stressed or anxious as anxiety is your health's real enemy, and there is no point in taking unnecessary stress.
Gladly, the answer to this never-ending debate, i.e., the quickest and simplest way to lose weight, has finally been found.
Do you want to know the answer?
We are talking about the keto diet here as this low carbohydrate diet is quite famous in Pakistan for all these reasons.
Well, the 'Ketogenic Diet' is a low-carb diet that helps you maintain a healthier lifestyle. Nevertheless, it is imperative to know a lot more about this weight loss diet before you start your keto diet plan for weight loss in Pakistan.
If you want to lose weight by maintaining a healthier lifestyle then Keto Diet Plan in Pakistan is the best option. Consult an expert dietitians as only qualified health professional can better monitor your diet.
Key Takeaways
The Keto diet restricts you to 50 grams of carbs daily, less than other low-carb diets.
You can eat fat, including meat and dairy, during a ketogenic diet.
Most fruits are too high in carbs, and you can't use them during a keto diet. However, berries are good in keto, and you can eat them.
The Keto diet significantly changes the way your metabolism works. That change is known as Ketosis.
You may need various supplements to make this diet plan work better.
Staying on the keto diet for a longer diet can harm your health. That's why; it is preferable to consult with a qualified health professional before you start your keto journey.
Generally, people can lose up to 8 pounds early in the keto diet. Nevertheless, results are different for every person.
Remember, your keto diet plan for weight loss Pakistan must be planned by expert dietitians because following a strict ketogenic diet is never recommended.
Main Versions of the Keto Diet
There are 4 basic versions of the keto diet plan.
Standard Ketogenic Diet (SKD)
It is one of the most famous types of the keto diet. It includes 10% low carbohydrate, 20% moderate protein, and 70% high fat.
Cyclical Ketogenic Diet (CKD)
In this keto diet, you can take higher fat 5 days a week and high carbohydrates 2 days a week. High carbohydrate days are also referred to as refeeding days.
Targeted Ketogenic Diet (TKD)
It's similar to SKD, but the key difference is that it allows you to add desired carbohydrates to your diet around workouts. People who work out daily must opt for TKD.
High Protein Ketogenic Diet
You can add more protein to this type of keto diet plan. Generally, the ratio is 60% fat, 5% carbohydrate, and 35% protein.
Remember, standard and high-protein diets are suitable for you. The rest of the diet formats are ideal for athletes and sports persons.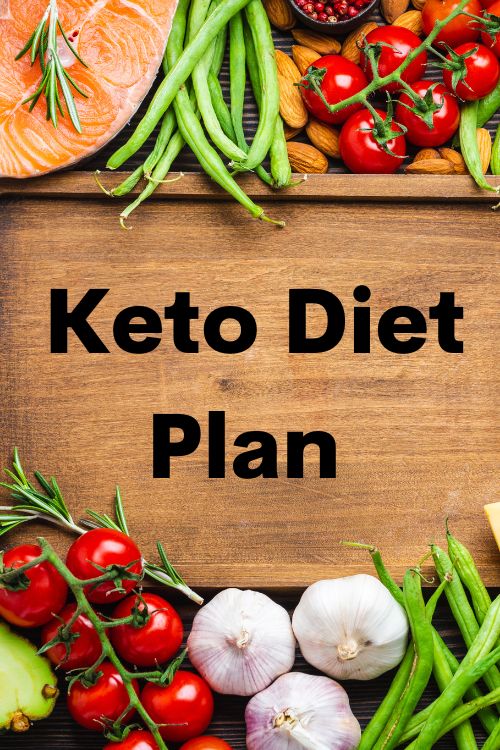 Everything You Should Know About Keto Diet Plan Pakistan
The Keto diet has become quite popular in Pakistan in the past few years, as people are looking for effective ways to lose weight and live a vigorous life.
Let's explore more about the keto diet plan for weight loss Pakistan and what you must know before starting it.
What is a Ketogenic Diet?
The ketogenic diet (aka keto) is a diet plan with endless health benefits. It's a low-carb and high-fat diet plan that reduces weight and improves health. Since this diet plan decreases carbohydrate intake and replaces it with high fat, the ketogenic diet causes your body to enter into a metabolic state called Ketosis.
The ketosis process starts in your body with limited carbohydrates to burn fats and energy. As a result of the keto diet, the carbohydrate intake process decreases, and the fat-burning process starts within the body.
The process also makes ketones in the body and works like small fuel molecules. The released energy from ketones helps perform routine life activities during the diet.
Is Keto Diet Effective for Weight Loss?
You must know that fat is the key energy source during the keto diet as the diet decreases carbs intake drastically. Therefore, your body consistently burns fat throughout the day. When the insulin levels drop in the body, fat burning process speeds up. Resultantly, access to fat storage becomes simpler, and your body burns them off.
You can intake keto meals as some other health benefits of the ketogenic diet are reduced hunger and slow energy supply the entire day.
What Should be Included in Your Keto Diet Plan?
As you know, the ketogenic diet's ultimate purpose is to decrease carbohydrate intake. That's why; it is strongly recommended not to eat more than 50 grams of carbs during your keto diet. Ideally, keeping it below 20 grams is more advantageous but make sure you include minimum carbs in your diet plan to lose weight.
Here's what you can eat throughout your keto diet.
Meat
If you are looking for a keto-friendly and low-carb diet, you must consume unprocessed meat. Nevertheless, take all the preventive measures seriously, as meat contains protein, and eating excess protein enhances glucose levels in your body. As a result, losing weight with excess glucose level in the body becomes challenging.
Egg
You can eat boiled, scrambled, or omelet eggs during your keto diet. Besides, you can fry eggs in butter and eat them too.
Vegetables That Grow Above the Ground
You can include fresh farm or frozen vegetables in your keto diet plan. For instance, you can eat broccoli, cabbage, cauliflower, and avocado throughout the keto diet.
Thus, you can make your keto diet more effective with limited carbs intake. Therefore, meat, butter, olive oil, and fresh seafood must be your core preference as they have low carbs.
Eggs, cheese, and vegetables that grow above the ground are also advantageous and must be in your keto diet plan for your successful weight loss journey.
Things That Shouldn't be a Part of Your Keto Diet Plan
Food items with excess starch, sugar, and carbohydrates must be avoided at any cost to make your keto diet plan Pakistan more effective. During your diet plan, say no to potatoes, bread, rice, and pasta. You should also avoid processed food items during your dietary routine.
Food items, including chocolate bars and candies, have high-fat carbohydrates and must be excluded from your keto diet plan. Also, don't eat donuts, pasta, bread, potato, rice, juice, and banana are recommended to avoid as well as they make the process of Ketosis less effective.
Keto Diet Plan for Beginners in Pakistan
Here's the simple day Keto diet plan Pakistan you can follow;
Take 1 tablespoon apple cider vinegar with two sips of water at 8:00 am.
Drink one glass of Luke water at 8:15 am as it helps control high blood pressure.
Make an omelet of 2 eggs, one slice of cheese and sliced mushrooms for breakfast and eat them at 9:15 am.
Drink lemon-squeezed green tea at 11 am.
Eat salad (mostly greens, feta cheese, and at times strawberries) at 1 pm.
You can take strawberries or almonds as snacks at 4 pm.
Eat Keema Shimla Mirch, Butter Chicken, palak paneer, cottage cheese, and sometime bhindi at 7 pm.
Drink green tea of any desired flavor at 8 pm.
Using white butter or desi ghee while cooking your food during the keto diet is preferable.
Consuming 2 to 4 liters of water daily is imperative to enjoy the best results of the standard ketogenic diet.
Final Thoughts
All diets, including the keto diet plan Pakistan, have some potential side effects. That's why; it is imperative to consult a qualified health professional who regularly monitors and reviews your targeted ketogenic diet.
If you don't have any complicated health conditions, you can follow the keto diet plan for a short span. Surely, this diet includes high fat and low carb, so balance is the key.
Also, if you are adopting a healthier lifestyle, don't cut off carbs intake completely from your diet.
The type and amount of fat you consume truly matter. Therefore, we strongly recommend you get a detailed view of the keto diet plan from the best nutritionist.
If you want a comprehensive keto diet plan in Pakistan you can contact me at ayeshanasir.com